TUBALL™ graphene nanotubes (also known as single wall carbon nanotubes) demonstrate promising results as conductive additives for plastics.
Graphene nanotubes create a dense conductive network inside thermoplastic compounds that guarantees stable electrical conduction performance with no adverse effects on the mechanical and rheological properties of plastics.
OCSiAl markets nanotube-based concentrates for wide range of thermoplastics: glass fiber filled polyamide, polyamide, glass fiber filled PPS, PVC-plastisol, TPU, polycarbonate, ABS, and PC-ABS polypropylene. Other conductive additives with nanotubes for polyethylene, polystyrene, and others are undergoing validation and are referred to as beta products.

CONDUCTIVE ADDITIVES: TRADITIONAL VS TUBALL™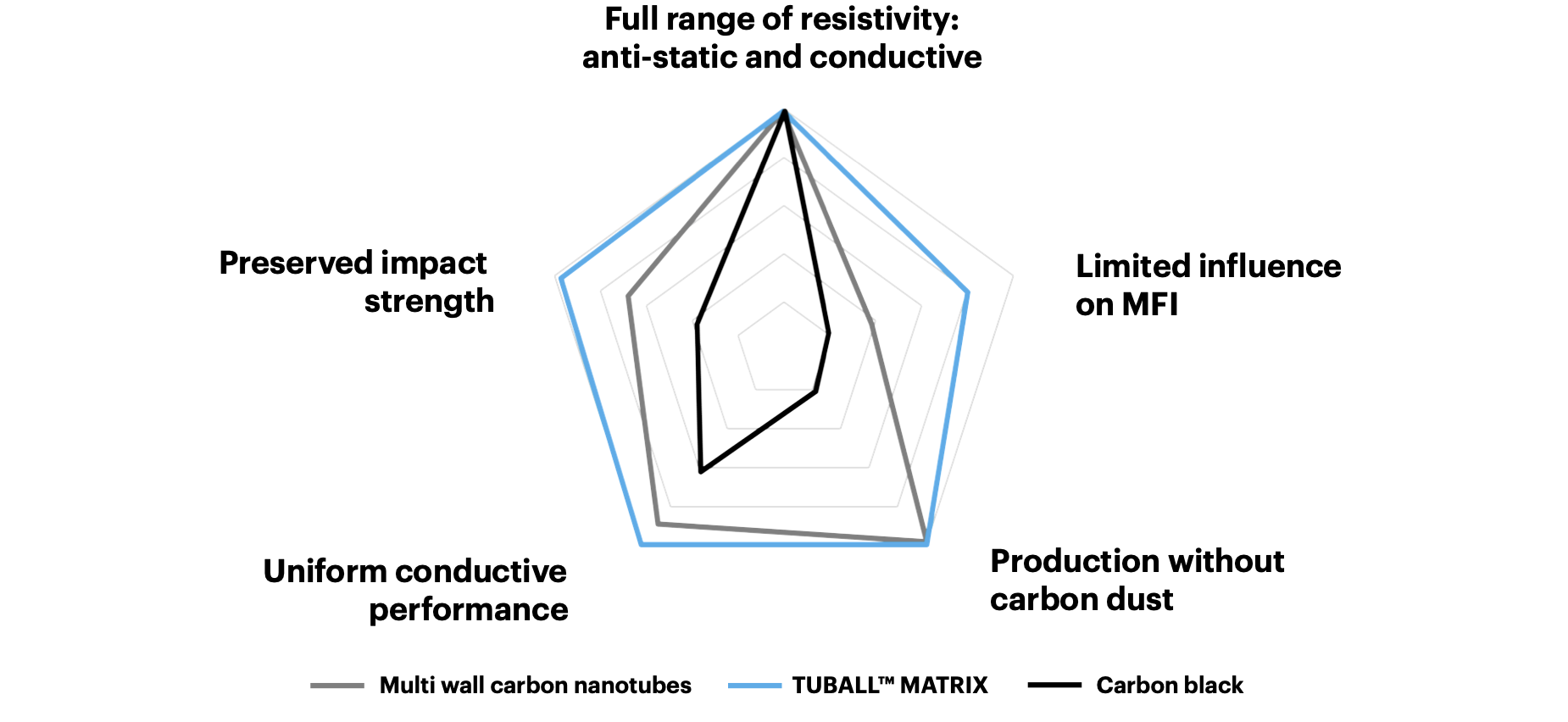 Note: This diagram provides average trends compared with other additives based on OCSiAl data. Product performance may vary depending on product type and formulation.
TUBALL™ MATRIX: multiple benefits
Enables a new combination of properties in comparison to standard conductive additives
Surface resistivity of 103–109 Ω/sq*
Volume resistivity of 103–109 Ω∙cm*
Maintains a good balance of mechanical properties
Stable performance reducing the number of out-of-spec parts
Good processability
Permanent homogeneous resistivity without "hot spots"
High surface quality
Allows production of conductive parts that retain colors
Freedom to incorporate other functional ingredients
*Values may vary depending on the formulation, processing, and products. The values shown are given as the typical reference.
TUBALL™ graphene nanotube solutions for plastics
To adapt nanotubes to a standard manufacturing process without purchasing specific equipment or changing the original formulation, OCSiAl has developed the TUBALL™ MATRIX line of concentrates.