TUBALL™ graphene nanotubes: Good performance on all key parameters

In contrast to other conductive agents, TUBALL™ graphene nanotubes are a versatile conductive agent offering good performance on all key parameters.
Parameter

Carbon black

Metallic
(paste form)

MWCNT

Working dosage

10 wt.%

10 wt.%

3 wt.%

2 wt.%

Resistance requirements (volume Resistivity)

105–107 Ω•сm

Resistance result (volume Resistivity)

106–109 Ω•сm

105–107 Ω•сm

105–107 Ω•сm

105–107 Ω•сm

Black dots on surface

only black available

none

only black available

none

Available color range

none

limited

none

wide

Resistance remains stable after abrasion on surface

no

yes

yes

yes

Influence on mechanical performance

strong negative

strong negative

strong negative

none

Influence to rheology

strong negative*

negative*

strong negative*

none

Dust formation during production

yes

yes

yes/none
(in case of masterbatch)

none

'Hot spots'
(resistance varies on surface)

yes

possible

possible

none

Stable resistance over time

no

yes

yes

yes

Longer life cycle of compound and molded parts

no

no

no

yes

Carbon release on surface

yes

none

none

none

Cost of anti-static property

comparable

high

comparable

comparable
* Formulation design required (adjustment of curing system).
Key benefit 1: Colored anti-static compounds
The wide range of color options makes it possible to provide various parts to the market where anti-static properties are required.
Colored anti-static silicone rubber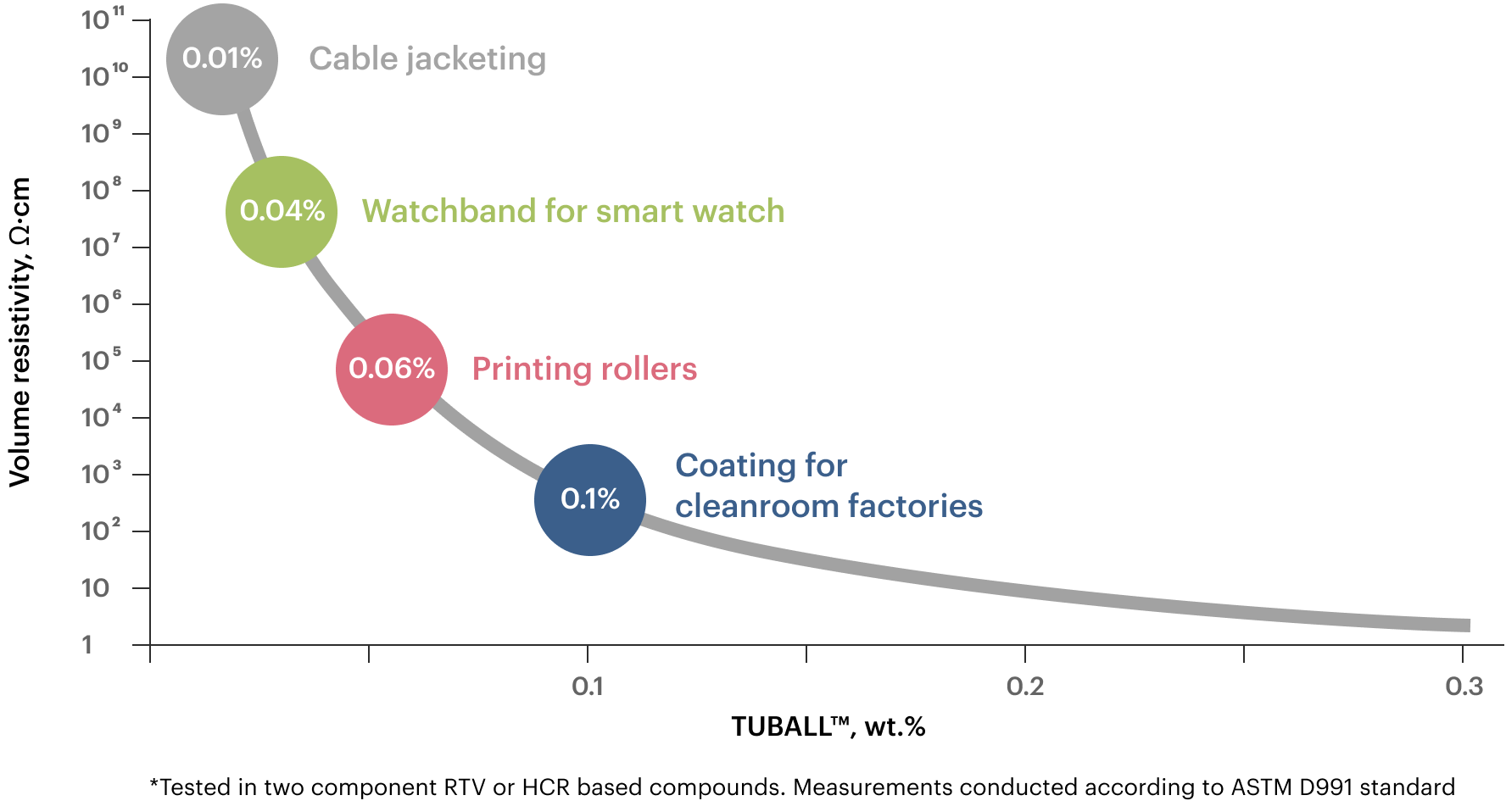 Volume resistivity of 103–105 Ω•cm. TUBALL™ loading 0.2–0.05%
Key benefit 2: Maintained mechanical and anti-static properties
TUBALL™ nanotubes, in contrast to traditional conductive agents, minimize the impact on compound elasticity and on tensile parameters, viscosity and rheological properties.
Mechanical properties of anti-static LSR with 4 wt.% of TUBALL™ MATRIX 601

When using carbon black, because of the high concentration required (10% or more) and the spherical shape of the particles, a phenomenon known in the industry as "carbon release" takes place, where the conductive additive is present on the surface of the sample.
In contrast, graphene nanotubes, owing to their greater length-to-diameter ratio, are not released to the surface.
If materials will be used under conditions of deformation, it is important that stable resistivity is maintained. With TUBALL™ MATRIX, the resistivity is maintained below the target value even after stress-strain.
High dynamic pressure applications – Anti-static LSR with 1 wt.% of TUBALL™ MATRIX 601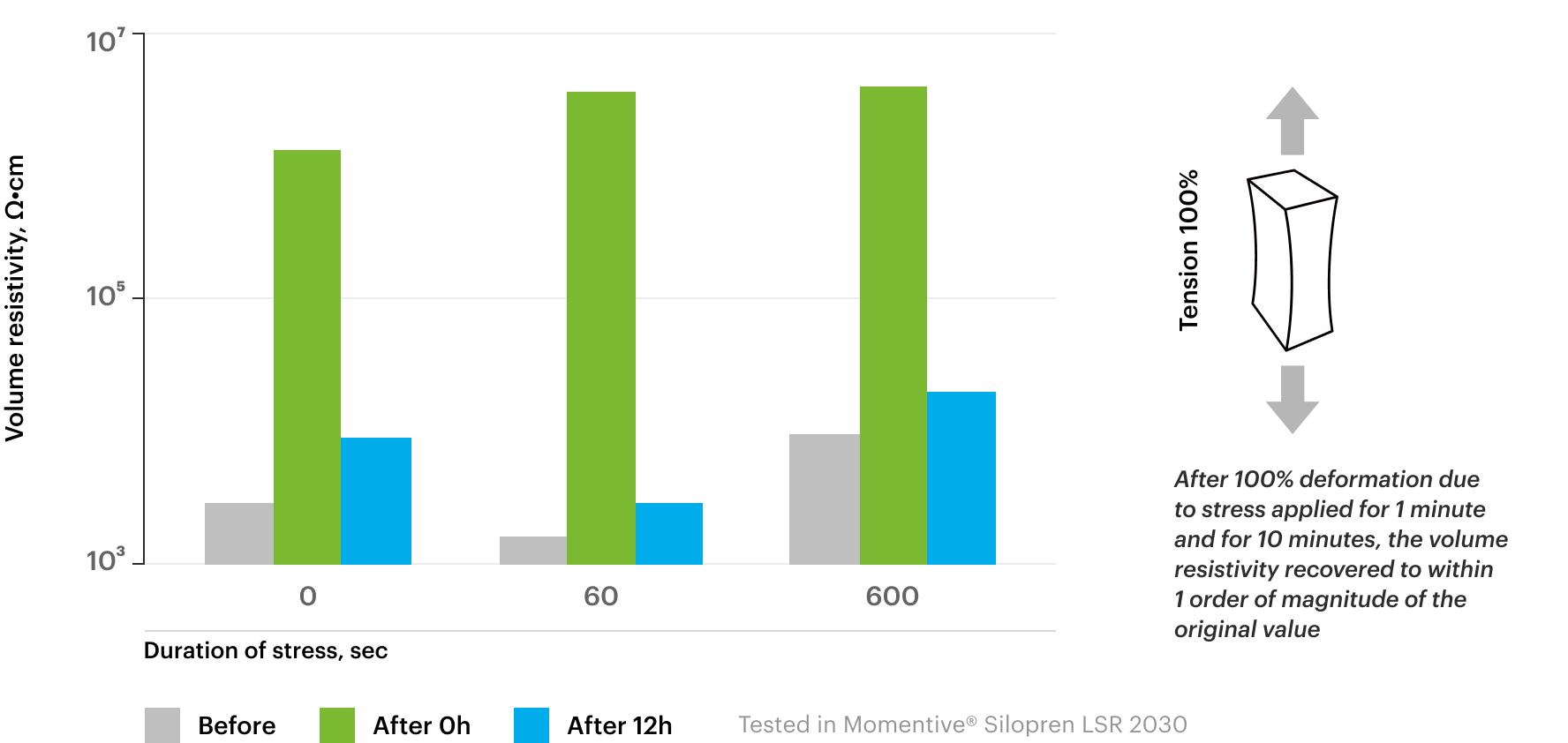 Key benefit 3: Standard processing and mixing equipment
TUBALL™ MATRIX can be diluted into compounds through the use of standard silicone compounding equipment (2-roll mill, kneader). Other approaches for masterbatch dilution may be used provided that their mixing efficiency is sufficient.
More information about the key parameters for masterbatch dilution and compound processing can be found in the processing guidelines.